*Special* Alumni Profile of Our Friend Mark Wagoner (1971-2003)
This page is borrowed from the NC State Caldwell Fellows Alumni Profile of Mark Wagoner. It was once found through the NCSU Caldwell Fellows Program here. I can't seem to find it online anymore, so I decided to post it here. You may also want to look at his obituary. We miss you, Mark! --Kyle=
Mark Wagoner's passion for adventure and service was boundless. His zest for life profoundly impacted those around him. He loved to share his excitement for the outdoors with others.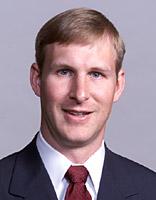 Mark graduated in 1989 from the NC School of Math and Science in Durham. Mark scored 1580 on the SAT and was accepted at NC State University, where he was a National Merit Scholar, a Caldwell Scholar, a member of the NC Fellows Program, and a Rhodes Scholar Nominee. He graduated Summa Cum Laude with B.S. Degrees in Electrical Engineering and Physics in 1994. After graduating, Mark worked at Proctor & Gamble in Browns Summit, NC, from 1994 to 2001. He then went on to earn a master's degree in business administration from Duke University in May, 2003.
Mark first became interested in mountaineering at an outdoor leadership development course to the Rockies with The Caldwell Fellows Program in 1990. Some of his major accomplishments in this area include National Outdoor Leadership School training in Alaska, certified Wilderness First Responder, and Instructor with Colorado Outward Bound. He also led technical climbs on Mt. Rainer in Washington, Mt. Hood in Oregon, and in Ecuador. He remained active in The Caldwell Programs, co-leading several wilderness experiences for Caldwell Fellows each spring.
Continue reading "*Special* Alumni Profile of Our Friend Mark Wagoner (1971-2003)" »